Goff's Caye
Journey to the center of the reef at Goff's Caye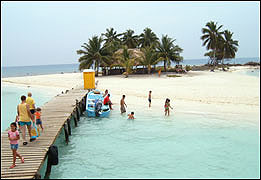 Goff's Caye is a small island located a stone's throw away from Belize City . Only a 45 minute boat ride away, this lovely coral island sits on top of Belize 's Great Barrier Reef . Surrounding the island, pristine waters change to varying colors of blue depending on how the sun hits the surface. The waters are teeming with a myriad of colorful, tropical fish and the reef is loaded with a variety of colorful corals. A formal narration about the island and surrounding environment will take place subsequent to the voyage.
Before leaving for the island, you will also be fitted for your snorkel gear. Along the way, our trained crew is happy to answer any question you may have. Upon reaching the island, you will have 30 minutes to explore the northern end of the reef. Once this is over, you will be taken to the island for some beach combing and relaxation. When you have rested sufficiently, the guides will then take you to the southern end of the island, where your exploration of the reef will continue. Throughout the tour, our guides will happily offer any guidance or assistance that you may need.
Get lost in the beauty of Goff's Caye for a memorable experience!!
| Charter Type | Price | Quantity |
| --- | --- | --- |
| Price Per Person | $47.00 USD | Minimum of 10 people |
| Charter from 1-10 | $470.00 USD | Charter for 1-10 people |
| Charter | $735.00 USD | Charter for 1 to 20 people |
| Other | $37.00 USD | Per person over 20 people |
| Port Fee | $5.00 USD | Cruise Ship Passengers |
Special Instructions
Please wear your swimsuit and bring a towel, sunscreen, a straw or baseball hat, and an extra t-shirt. You may want a waterproof camera as well. All snorkel gear will be provided.