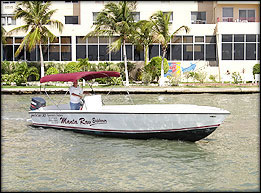 This Belizean owned and operated company is the living dream of Mario Guerrero. The son of a fisherman, he acquired and stretched his sea legs at the early age of 12. Together with his father, who taught him everything he knows, he has fished from the northernmost tip to the southernmost parts of Belize. With a lifetime spent on the waters of Belize Mario has attained over 40 years of working knowledge and experience of the sea. He is now preserving his family's legacy as skilled seafarers by coaching his only son, Mario Cesar, in all the ways of the sea. Both father and son work together to maintain a stable environment in the company's operations.
Coupled with his understanding of the sea, Mario also brings to his company considerable experience in the service industry. He has worked in various fields such as a marine surveyor for Lloyds of London, sales for Colonial Insurance Co., customs brokerage for Romacs Ltd., a major supermarket in Belize, and as a Field Marketing Coordinator for Texaco Belize Ltd. He is thus able to provide you, the valued customer, with the best service and attention in Belize.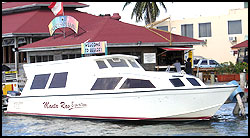 Since it's incorporation in 1997, Guerrero's Charter Services has grown from one boat to a fleet of 7 safe, comfortable, and reliable powerboats to accommodate the diverse aquatic adventures offered. We also boast an excellent team of employees, comprised of captains and well versed tour guides, who will go that extra mile to make your adventures on the open water absolutely memorable!
Mario and all who work for Guerrero's Charter Services endeavor to demonstrate to any and all the beauty of the Caribbean sea and the country of Belize.